Frequently Asked Questions
FAQ
T
he photos of polished concrete look too reflective. Can my concrete have less sheen?
Of course! We can provide different levels of sheen according to your taste. Our photos are usually taken from an angle close to the floor where it shows more natural light reflection. People are often surprised that when standing in a room with polished concrete looking down, it has more of a matte look. It's all about the angle.
FAQ
A
re Diamond Polished concrete floors slippery?
A common misconception is that diamond polished floors are slippery, however the opposite is true. The high reflectivity is from a mechanical process and not a topical coating or wax, that are generally slippery. In fact the coefficient of friction (slip resistance) is generally increased the higher a floor is polished. Imagine a stone or marble floor that is honed/polished. We always recommend mats in entryways and outside showers as polished floors can be slippery, as is most flooring, when wet.
FAQ
H
ow do I maintain my polished concrete floor?
It's easy. Dust mop, sweep or vacuum. Than use a flat micro-fiber mop with any neutral cleaner and water. Thats it. We provide examples and more detailed instructions when we finish your floor.
FAQ
C
an I diamond polish my old disgusting basement floor?
If you have concrete that is structurally sound, whether it is new concrete or old, then it can be diamond polished. We will transform it into a smooth beautiful surface.
FAQ
W
hat design choices do I have with Polished Concrete?
While we love to see your inspiration photos, we find usually the easiest way to choose your look is to view our iCloud Photo Gallery (available upon request).
There are just two important decisions that are typically made: The pattern seen in the floor or How much concrete is removed (Grade) by diamonds when starting, and How much sheen/reflection (Class) is provided by diamonds at the end.
Decision #1 – What Grade? (how much concrete is removed)
Grade 1 – This is a cream or surface polish where just the top of the concrete is polished. Very little is taken off the surface. The natural mottling, marks, and organic variation from finishing the concrete (power trowels, etc) is still visible. If you mop your floor with a wet mop you will get a good representation of the pattern in the floor. This choice is commonly seen in big box commercial hardware stores. The amount of concrete taken off is so little it cannot be seen.
Grade 2 – This is a fine aggregate pattern, or salt and pepper look. With this look the concrete has a more uniform look than a Grade 1 floor, as all the surface variation and mottling is removed. Expect areas in the concrete that may show places of larger stones as we cannot control where they appear. Depending on the hardness of the concrete, and average amount taken off would be less than 1/16".
Grade 3 – This pattern exposes mid-large aggregate found near the surface of the concrete. This look is considered the hardest surface and often most desirable floor in polished concrete. Often a variety of different color local stones are found underneath the surface. Expect areas in the concrete that may show places of fine aggregate.
Decision #2 – What Class? (how much sheen)
Class 1 – This is a matte or satin sheen. It is has a low, soft reflection when viewed from an angle. Imagine the sheen of honed marble and this is it.
Class 2 – This is a medium sheen or reflection and is the most common by far with polished concrete. LED lights will reflect in the floor like natural stone.
Class 3 – This is a mirror sheen or reflection. Get your sunglasses out.
FAQ
I
s my personality suited for polished concrete?
Concrete is a natural and organic surface with lots of imperfections and beauty marks we call character. It is often why it has such wide appeal. A finished concrete floor always tells a story as there are many factors that result in a finished surface – its history… mix design, its placement, temperature and humidity, finish methods, etc. If there is carpet, VCT, or tile that is removed, this will affect the surface as well. Unless a cream polish is chosen, some areas will show a variety of size of aggregate throughout the floor. If your personality is such that you want a floor that is perfect and uniform in appearance throughout, than natural diamond polished concrete is not for you. Consider a painted floor, like an epoxy.
FAQ
H
ow much dust do you make when grinding and polishing?
We have big powerful vacuums so not much at all. Most of the small amount of dust is only created when changing bags on our vacuums. We are serious about the dangers of breathing in concrete dust, so we are always prepared. Some of the grinding process is also done with water. Most people are surprised at how little dust is made. If you are imagining having a hardwood floor or sheetrock sanded, it is nowhere near the amount of dust.
FAQ
H
ow long must concrete cure before being polished?
28 days. In some cases, we can grind early if necessary.
FAQ
I
s all Polished Concrete the same?
No. The term "polished" is often used loosely and there are other types of concrete floors described as polished floors. Some masons will refer to a smooth power-troweled floor that is polished as a polished concrete floor. Others will apply a sealer or coating on the surface that looks shiny and plastic-like, and called it polished. There are also quick methods of obtaining a polish that involve burnishers and hybrid diamonds. Knowing the difference will mean having a natural beautiful floor, or a floor that looks plastic.
Our Diamond Polished Concrete process is considered the most desirable look in concrete as it is most widely used and accepted by specifiers and the CPAA. It is more specifically referred to by specifiers as Bonded Abrasive Polished Concrete, which means it has many steps of diamond processing, in addition to densifying and sealing.
FAQ

I

am building a new modern home. At what point during construction do I polish my concrete floor?

We always ask general contractors to fit us in as early as possible in construction due to the labor involved with polishing edges. Flooring is often last but with concrete as the finished floor we often ask to get in before interior walls are built, and than protect the floor. If this is not possible, then before sheetrock. Worse case scenario is before baseboard trim. In some cases, we have had great success in grinding prior to interior walls, and returning before baseboard trim to polish.
FAQ
C
an my concrete floor be dyed or colored?
Oh yeah. Most people prefer the warm color of natural concrete when it is diamond polished, however we can dye, or stain your floor. We work with colors that are mostly earth tones. We can provide a color chart at your request.
FAQ
W
hat is done with cracks and control-expansion joints?
We love cracks. The more the better. We fill them and joints with a hard yet flexible similar color polyurea and grind it smooth with the rest of the floor.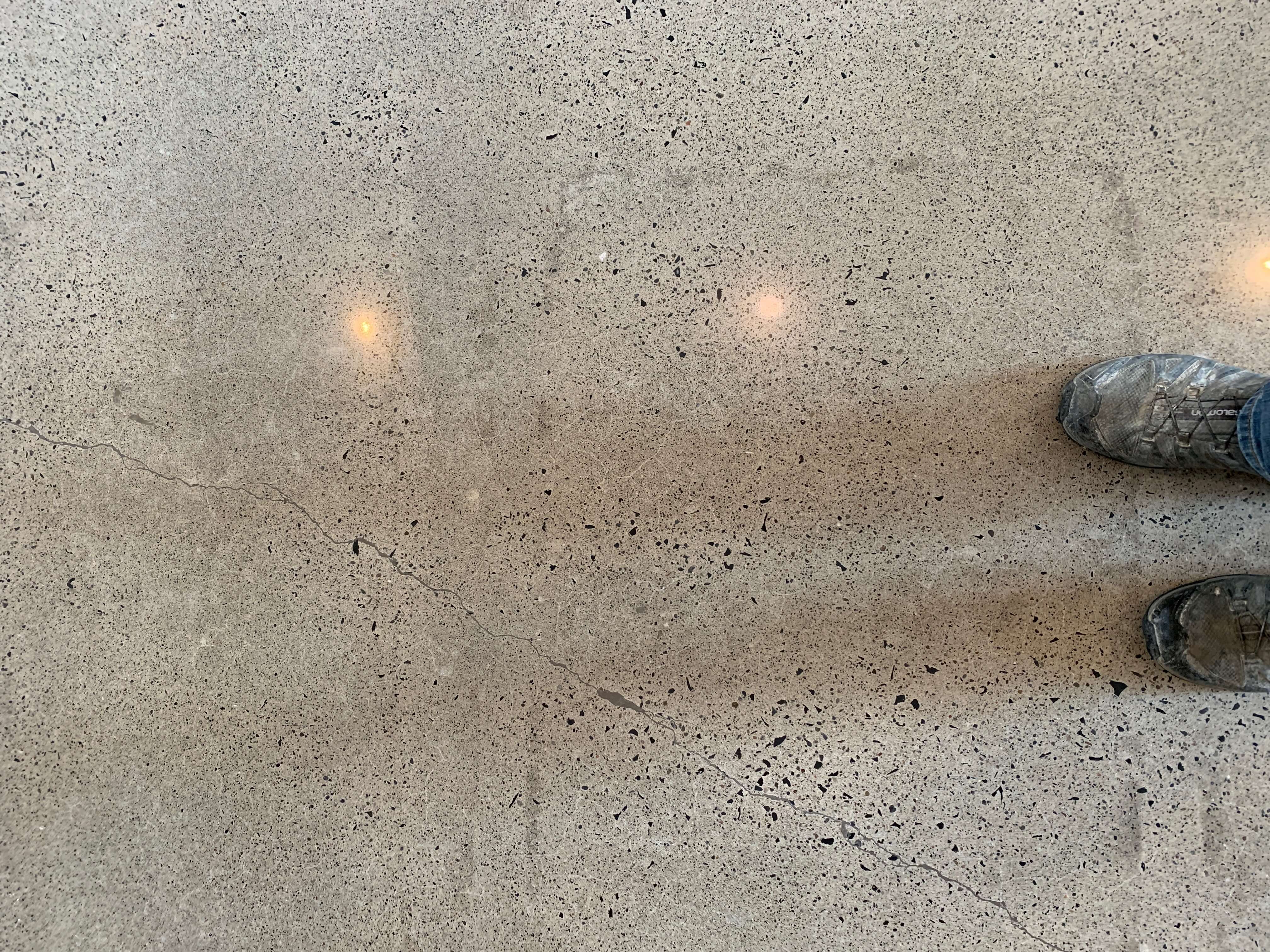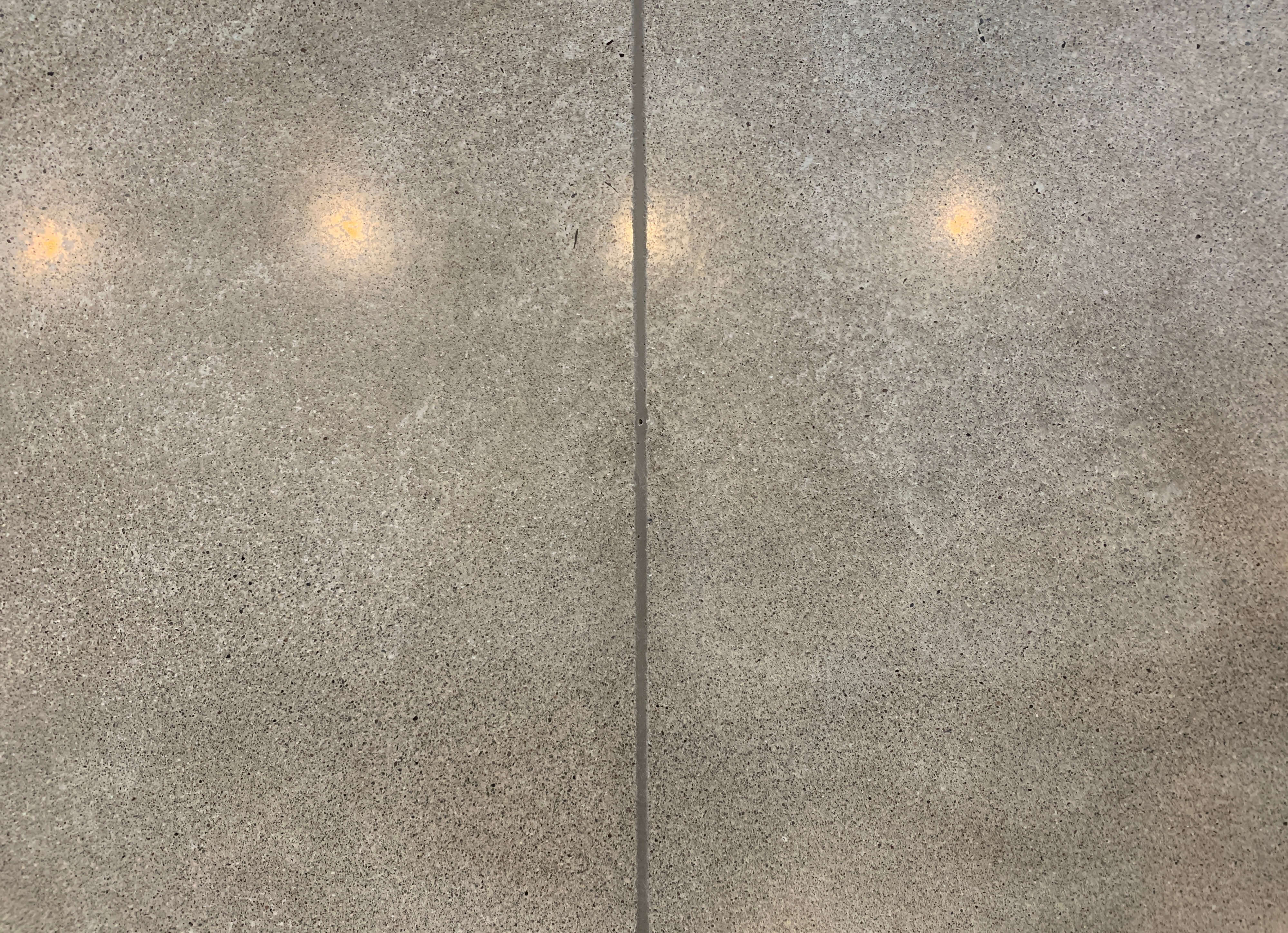 FAQ
D
o you have more pictures of your projects I can look at?
Yes. Send us an email and we will forward you an iCloud link to our gallery of projects.
FAQ
W
hat if I have structural fiber in my concrete?
No worries. It doesn't affect the final appearance of the floor.
FAQ
W
hat will imperfections like holes from nails in my concrete look like when polished?
We are good at making imperfections blend in with fillers, epoxies and hydraulic cement. Even when
they do not blend in perfectly they are always smooth and look cool. Two examples are seen here.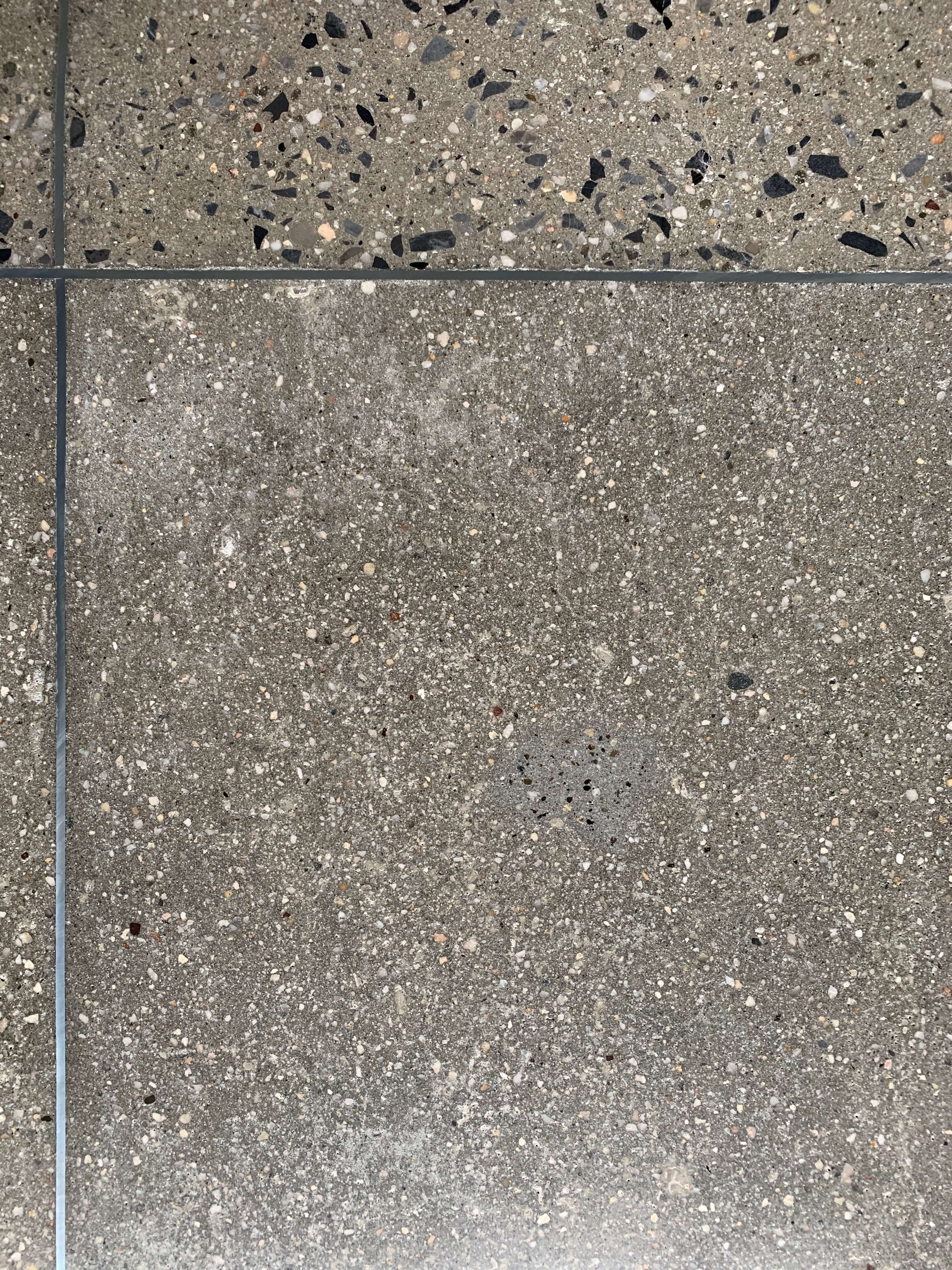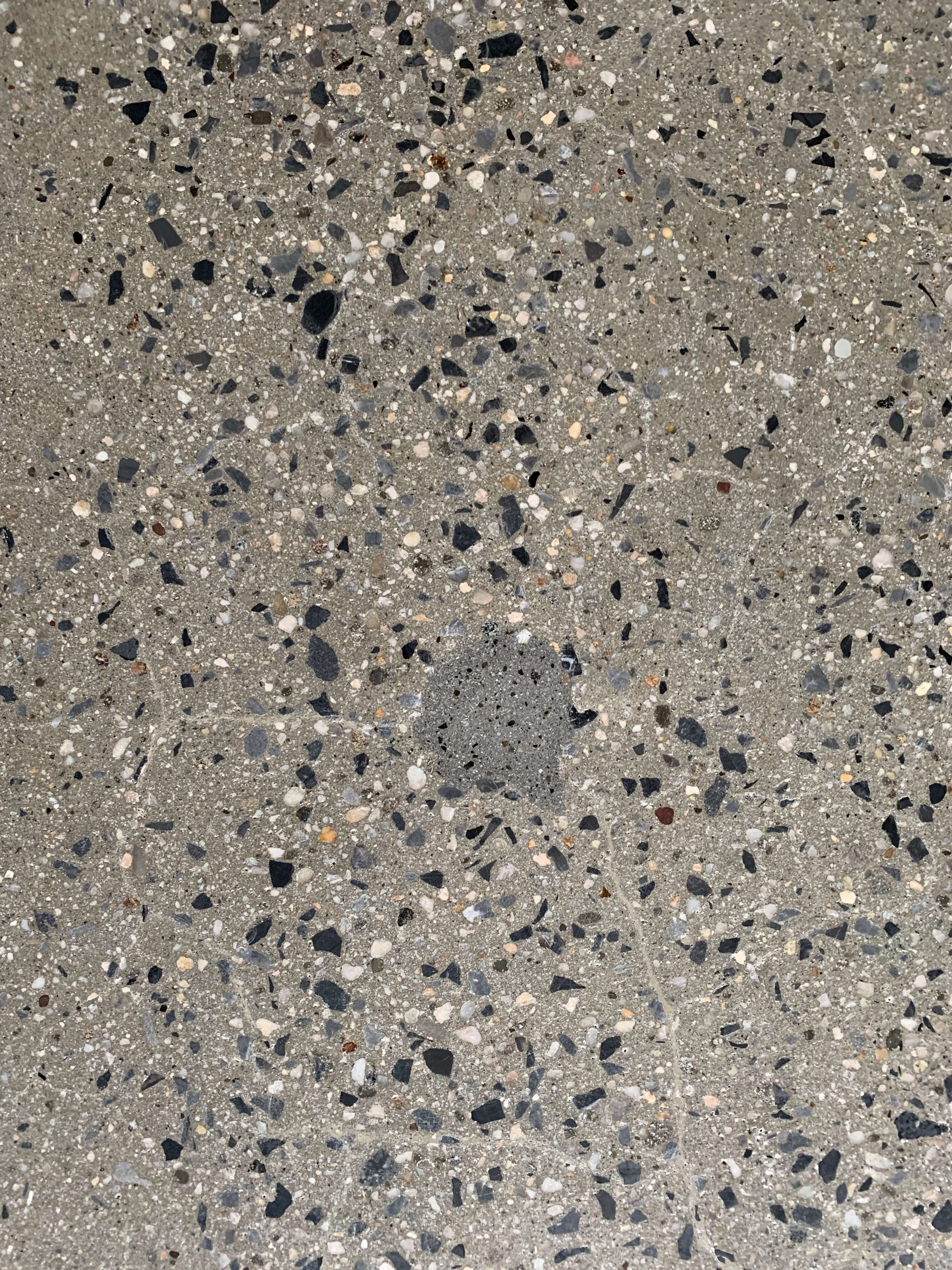 More Questions
We'll be happy to answer. Just fill out the form below.